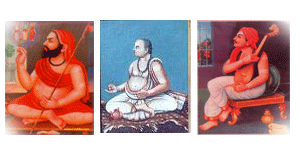 Sri Bodhendra Saraswati Swamigal was the 59th pontiff of the Kanchi Kamakoti Peetham. He was also called Bhagavan Nama Bodhendral. He preached his Rama Nama siddhanta, a doctrine that asserts that chanting Rama Nama is the way to attain purity of mind in Kali Yuga.
Tiruvisalur Sri Sridhara Venkatesa Ayyaval was a contemporary of Sri Bodhendra Saraswati Swamigal. He was a great devotee of Lord Shiva and gave importance to Shiva Nama.
Marudanallur Sri Venkatrama Sadguru Swamigal travelled around the whole of India and compiled a lot of compositions by eminent saints and set up the paddhati, which has been kept intact for the past 200 years, thereby he brought about national integration by compiling the compositions of different languages of all states.